Too Many Clothes, But Nothing To Wear
When you open your closet, do you like what you see? Is it organized, with plenty of space for your shoes and clothing? Can you locate things easily?
Or do you find that your closet is constantly in disarray? Not enough hangers, too many shirts and dresses crammed in together? Do you feel it's difficult to find things that match, to complete your outfit for the day?
My closet was a wreck for many years! I was constantly behind on laundry, too, so I could never find the top to go with that certain pair of slacks, or the sweater to complete my outfit. I spent twice as much time as I needed to, just running around the house trying to find the clothes I wanted! I had way more clothing than I needed, but somehow I always felt like I had nothing to wear.
The Solution
Then I discovered the capsule wardrobe method. This is a popular method for organizing your clothing and downsizing your wardrobe, so that you can mix and match outfits easily. I decided to build a capsule wardrobe for myself. Now when I look in my closet and dresser, I can find everything I need for the day. There's much less rushing around like a crazy lady, just trying to get dressed! (Now the laundry piling up…that is something that I still struggle with! But hey, we all have room to grow…)
How To Create A Capsule Wardrobe
Today, I'm going to walk you through the steps for creating your own capsule wardrobe. It is pretty simple. The only difficult step, really, is being willing to part with some of your clothes that don't fit anymore, or that you haven't worn in 10 years! At least, that was the hard part for me. Let's dive in.
Go through your closet and dresser, and donate any clothes that: a) no longer fit, b) you no longer wear, or c) are ruined. This is the time to purge. You have to create space in your closet, so that you can find the clothes you wear on a regular basis!
Look at the remaining clothing you have, and see what outfits you can create from these pieces. Remember that you can use one top for several outfits, and and that top can become extremely versatile. For example, take a look at this peach blouse:
You can use this top with jeans, brown flats, a brown cardigan, and a chunky white necklace for a dressy-casual look.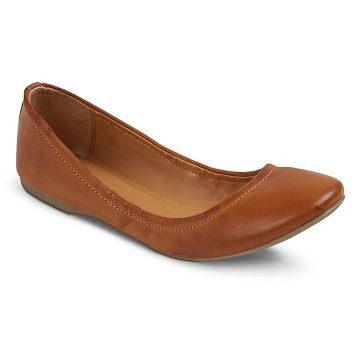 But, you can also use that same peach blouse for a work outfit.
So you can see, that peach top can be used in drastically different outfits and settings. This is not a new concept, for sure. However, the exciting thing about a capsule wardrobe is that you want every piece of clothing you own to be versatile in this way! The goal is to have pants, slacks, skirts, dresses, tops, and sweaters/jackets that can all mix and match interchangeably with each other.
3. Purchase any items of clothing you might need to tie your wardrobe together. You may find that you have a lot of tops that go with your jeans and slacks, but no cardigans or jackets to complete the outfit. In that case, you would need to invest in a couple of quality jackets or sweaters to round out your wardrobe. Or, you may find that you only really have 1-2 pairs of shoes that match all your outfits. If this is true, then it's a good idea to check out some deals at Payless Shoe Source or Walmart, and find some cute shoes for a good price. Another category you might need to bulk up is jewelry. Choosing 2-3 good quality necklaces, in colors that match your outfits, is a great investment.
Before you purchase these items, look at the clothes hanging in your closet. Do you see any prevailing color themes? Are most of your tops purple, red, blue, or another color? Do you tend to stick with neutrals? What color schemes would you like to create with your wardrobe? Keep those colors in mind as you purchase your new pieces.
Keep in mind, too, which colors work well together. A good rule of thumb is to have one dominant color in each outfit–a color that really "pops." An example of this would be red, purple, pink, or blue. Your other colors could be neutral–tan, black, off-white, white, or denim. One thing that's very popular right now is to use red as an accent color in your outfit. But red only works well with a few colors. Examples include red and blue, red and black, red and brown, or red and white. However, it's never a good idea to mix red and purple, red and pink, or other colors that are very dominant! They generally don't go well together in the same outfit. If you're unsure how to mix and match colors, do some research on it. There are endless resources to be found online. Educate yourself a little bit before you go shopping for your new clothes. (Another thing to remember is that you don't have to spend boatloads of money to achieve a capsule wardrobe. The whole purpose of the idea is to have just a handful of pieces that all work well together. So you don't have to run out and buy 10 new tops and 8 new jackets. One or two jackets, and one or two new tops–this will work even better.)
Your essential pieces will be determined by your work and personal life. I do not work in the corporate sphere, so you won't find a single blazer or pencil skirt in my closet! However, for other women who need those articles of clothing, it's good to have 2-3 of each. Think about the outfits you'll need to wear to work, on a night out, when hanging out with friends, and when running errands. That should give you an idea of the essential clothing you need.
Let me give you an example from my closet. Here are the clothes I currently have:
10-12 dressy tops, all of which are different variations of blue, pink, brown, black, or red
1-2 pairs of jeans
1-2 pairs of black slacks
5-6 cardigans or jackets, all neutral colors (black, tan, denim)
Several T shirts, sweats, and shorts for around the house
5-6 maxi dresses in colors of blue, black, green, and red
All my tops can be worn with all my pants. All my sweaters match pretty much every outfit. This is the idea you're going for.
4. Remember to accessorize! The key to sprucing up a capsule wardrobe is accessories. This includes jewelry, shoes, and handbags.
For shoes, I am a huge fan of ballet flats and flip flops. Here are the shoes I wear almost everywhere:
I'm also a long necklace kind of gal. Here are the types of necklaces I have:
All these necklaces and shoes match several of the outfits in my closet. And my jackets/sweaters, shoes, and necklaces all match each other, as well. So here is an example of an outfit I regularly wear:
But I can also use my pink accents as a pop color with a black dress:
Here are some other outfit examples, where I'm using the same red and tan accessories in different ways:
Hopefully that gives you a general idea of how a capsule wardrobe works. You can choose a handful of tops, bottoms, jackets/sweaters, and accessories, and then mix and match as many outfits as you want! You can always find something to wear, and it requires much less upkeep.
What tips would you share for keeping our closets manageable? What has worked for you? Please share in the comments below!
Thank you for visiting The Simple Lifestyle! Please consider subscribing to my newsletter at the top of this page, and following me on Facebook. Have a wonderful day!